March: Spring or Snow or Both?
March first is the first day of Spring and the 20th is the equinox this year.  And as I write this, it's snowing outside in Sidney and Victoria…  Only in our beautiful corner of the world; blooms, birds and snow!
Kathleen made this little guy on February 28th!
March is the month all things Irish.  We will celebrate Saint David's Day (the national patron saint at the height of Welsh resistance to the Normans way back in the 5th century) and Saint Patrick's Day (the patron saint of Ireland) as well as many engaging activities.
On first of March, in honour of St. David, Chef will create a delicious Welsh dinner. Perhaps he will serve cawl, the national dish of Wales or something even more delicious, like Welsh rarebit, followed by bacon, potato and leek soup.  The main course will be teriyaki chicken or salmon with a lemon dill sauce, and finally topping it , desert will be Welsh trifle.  Hor d'oeuvres and a complementary drink will start at 5pm with dinner served at 530 pm.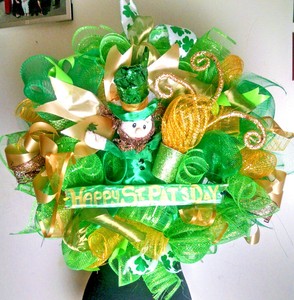 The ever-entertaining Chris Mundigler is back and will give one of his riveting talks, this time on Istanbul on March 9th.  On the 14th e-gurus will be in to talk about all things technological in "plain speak".  If you have a question about one of your devices, please come on down.
On the 17th we will celebrate all things green.  It's Saint Patrick's Day, and Chef has another fantastic meal for you all.  Irish stew and corned beef and cabbage, topped off with a delightful grasshopper pie square!  Hor d'oeuvres and a complementary drink will start at 5pm with dinner served at 530 pm.
And speaking of all things green, March is National Celery Month!  Honestly, I didn't make this up!
We are coming up to a provincial election for BC on May 9th, and Kathleen has arranged for enumorators to come to both The Peninsula and Norgarden to make sure folks are registered to vote.  They will be here on the 15th of March, check your newletter for the time and place for each building.
Check out the rest of the offerings below in the activity calendar.